SpeedRune
SpeedRune is a rules-lite ancient world fantasy game.

Make a character in moments. Everything you need is on a single sheet of paper. Roll a d100 under your skills and use powerful rune magic.
GM assistance inspired by OSR and PbtA principles; the GM never rolls, freeing them up to move the story forward and create exciting consequences to player action.
A seasonal campaign structure with prompts and GM resources. Start small in spring, then watch consequences ripple until a climax in Storm Season.
Venture into myth itself! Go on transcendent heroquests to remake the world and cement your views into reality.
With amazing art by A. Degen.
Inspired by Sledgehammer and Cybermetal 2012.
Want more SpeedRune? You can buy The Ironheart Wars, a full campaign, here. Iron-eating werewolf heretics, drinking with ducks, and all-out war in the heart of a god.

Read a review of SpeedRune here (and one in French here).
On the print file: Print it two-sided on some cheap paper (flip on the short edge). Keep each booklet separate, and use the cover as a little folder. Write on it! Scribble things out.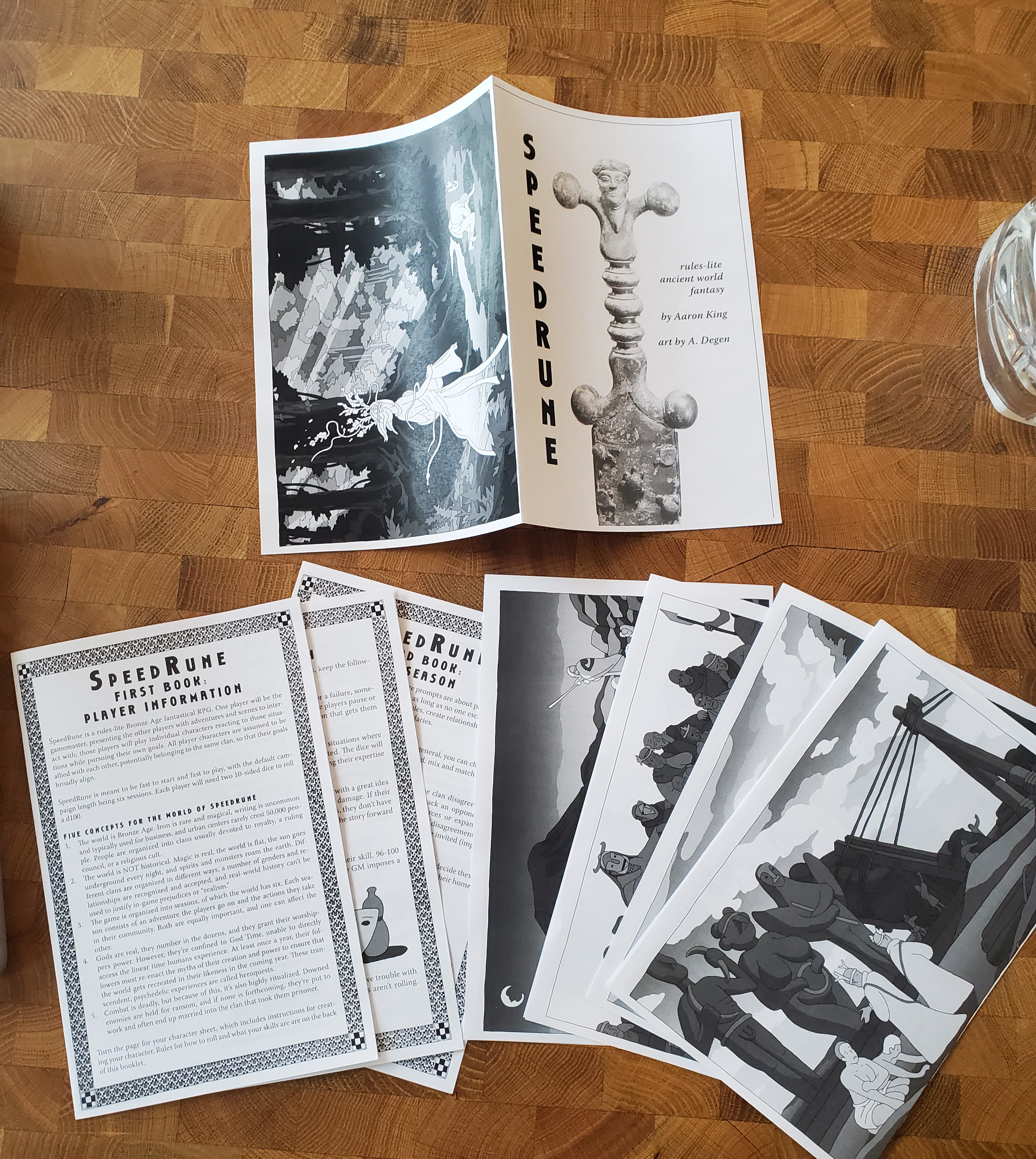 Download
Click download now to get access to the following files:
speedrune-digital.pdf
13 MB
Comments
Log in with itch.io to leave a comment.
This game is super cool. Currently playing in a PbP game and having a great time.
I LOVE this! Your design choices are superb.
I was always intimidated by RuneQuest, but with this I will have something that might itch the scratch and provide a much more accessible AND more interesting system for me.
I feel immediately at home with this, truly inspirational.
Thank you!

Thank you so much! And don't give up on RuneQuest; lots of the adventures and worldbuilding stuff are great for use in SpeedRune. And if you ever get it to the table and/or write some extra content, please let me know!

This game is incredible. The world feels real in a way that doesn't quite make sense considering all the magic and the 6 seasons. It kind of makes me think it's the world that our ancestors probably thought their world was like.
Tremendous new interior art
Yes, it's so good! I've loved Degen's comics for years, so it was a real dream to get to work with him on this.
This is a very insightful review! I left a more detailed comment there. Thank you so much.
Good stuff got better. I love the new art :) BTW is there a way to contact you outside Twitter ? You can send me a message through my website.

Esto es muy bueno!!
no veo las horas de armar una mesa con mis amigues!
Gracias!